Planning and Executing Strategies
---
"Effective leaders execute strategies through people and processes. Ineffective leaders execute people through strategies and processes." - JB Bryant
A poorly developed plan can damage an organization more than no plan at all. Unfortunately, poor plans are more common than effective ones. Our Strategic and Execution Planning process will re-energize your leadership's attitude toward your organization's potential and laser-focus your growth.
What sets our process apart from the many strategic planning methods out there? In a word, clarity.
We facilitate profitable innovation throughout the process
We begin with a thorough organizational diagnosis that informs your strategy
We help guide you in designing your strategy for ensured execution
You develop a more thorough plan in far less time than other processes allow
We place heavy emphasis on how you communicate your plan to the rest of the organization
Our no-fluff approach enables you to achieve measurable results in a predictable manner
You develop a plan you can communicate and execute, not anemic documents that get lost in the shuffle or a thick manual that will collect dust
Here's a quick overview of the process (we'll enter at any point you desire and customize to your needs):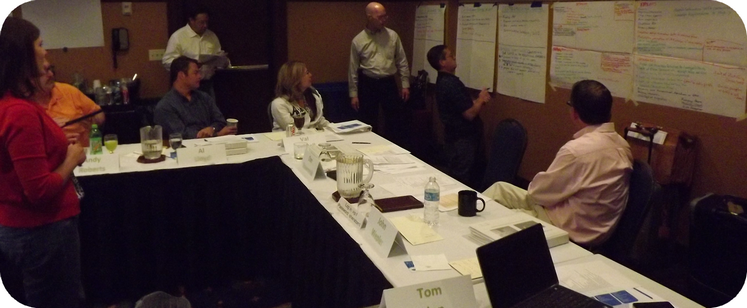 1. Diagnostics
For organizations larger than 20 employees, and for membership organizations with more than 20 stakeholders, we strongly recommend beginning with a diagnostic assessment called DIALOG (Data Indicating ALignment of Organizational Goals).
This powerful tool assesses your levels of strength according to the highly esteemed Baldrige Criteria For Performance Excellence. [Click here for info on Baldrige from the NIST]. It also highlights disparity between how various levels view the organization.
The results of the DIALOG assessment -- which is completed in about 2 weeks -- informs your Strategic Planning process. For more info, visit our dedicated DIALOG page.
2. Strategic Analysis
Next, we guide you through a process of gaining a deeper understanding of your organization and your competitive landscape. You discover who your organization currently is, where your organization currently is, what you want your organization to be, how you will get it there (at a broad level), and which inside and outside forces impact its ability to become the desired future.
Most of these answers are unique to your organization. Many are personal. The process is often painful, but it is always rewarding.
At the end of this phase, you will clearly understand and be able to communicate your organization's values in a way that clarifies decision making. You will have used those values to develop a vision for your future that takes into account both inside and outside influences.
3. Strategic Planning
Strategic Planning follows strategic analysis. We believe strongly that measurable outcomes drive strategy, even though most companies and consultants seem to reverse this. In this phase you determine how to make your vision a reality. Our process assists you in determining areas that require the most focus within the next 12 to 18 months. That short-range plan becomes part of a broader, less stringent plan for the next 3-5 years.
You will first determine Critical Success Factors and establish the goals necessary to achieve your organization's objectives. We then facilitate you through the process of identifying the actions (who does what by when) that will bring your goals to fruition.
4. Execution (Operational) Planning
Success cannot be achieved by a clear strategy alone. Your strategy is executed through an operating plan that is aligned with the strategy, people who are aligned with operations, and well-defined goals and measurements.
It is unfortunate, but a large number of organizations don't do this well. They put plenty of effort into it, but their investment of time and energy fails in the end because their goals and action steps aren't specific enough, they don't measure results, their goals are unreasonably high or fail to take them outside their comfort zones, and they don't set and stick to due dates.
5. Annual Goals Review
You don't necessarily need to go through the full strategic and operational planning process each year -- the frequency depends on your original plan. However, we will meet with you once per year to review your plan, help revise it where necessary, and help get you on track where you've veered. This is an invaluable step in our process, one you should never go without. It prevents the gradual ebbing away from a good start that we've all experienced.
Conclusion
With this structure and clarity, you will find new energy and the motivation to overcome obstacles. You will manage change, facilitate growth, attract and retain customers, and drive revenue more effectively.
---
To learn more, call Strategic Alignment Group at 330.465.0927 or email us here.